Email not displaying correctly? View it in a web browser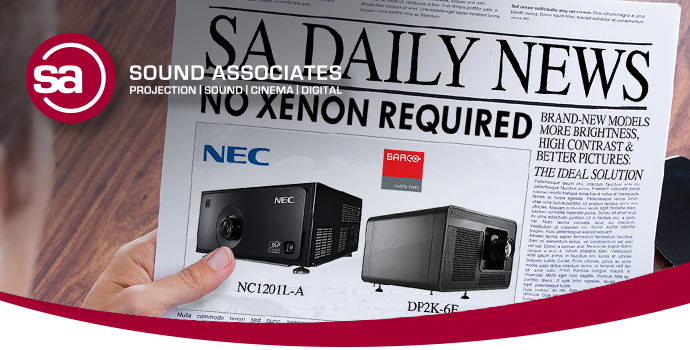 Welcome to our latest Newsletter.

In theory we should find ourselves in a lull between the releases of Spectre and the long-awaited Star Wars Episode Vll - The Force Awakens, but at Sound Associates, we are incredibly busy. We have collected quite a few stamps in our passports recently; I had a good trip to ShowEast, Miami, where I was interested to see new projectors from Barco and NEC and, as Steve tells us below, some of our engineers have travelled far and wide.


Back in London, we have had two very interesting conferences where it was good to catch up with many of you, and get a true sense of optimism in our industry. With good content and high quality, well maintained technology, cinema is still a highly valued form of entertainment and escapism – the French have even apparently declared that cinema is good for us, a "holiday for the brain". So perhaps I can now say that at Sound Associates we help look after the nation's health!



Conferences. An opportunity for networking, learning and researching…




ShowEast, Miami

Graham attended ShowEast in October, and as always, he enjoyed talking to industry colleagues and exhibitors and looking at new products on display; he even had a chance to watch a film – Brooklyn, which he says is very good!
There were new and concept models of projectors and on display, new technologies to fight piracy as well as interesting discussions on how to keep customers coming to the cinema.


ECA Conference, Picturehouse Central, London

This was the third conference held by the Event Cinema Association, http://www.eventcinemaassociation.org (Sound Associates were proud sponsors of the lanyards worn by delegates) and there was a real buzz in the room.




Event Cinema is proving more and more popular, the revenues are increasing exponentially year on year and there are more venues than ever showing more content than ever.

SA delegates wearing SA branded lanyards.




UKCA Conference: Engage l Reward l Grow,
Picturehouse Central, London

The UK Cinema Association held its 2nd annual conference on the 17th November and Sound Associates were one of the sponsors. The focus this year was on 'marketing the big screen experience' and there were several very interesting speakers and panellists who addressed the pressing issue of how cinema can maintain its appeal in the face of competition from Netflix and home cinema.


The venue, Picturehouse Central in Piccadilly provided a great environment for networking during the breaks and it was clear that by the time we all gathered in the bar for evening drinks, sponsored by Sound Associates, many people were clearly fired up and inspired to think about the part they can play in the improvement of the cinema experience. Our MD, Graham, did point out to the delegates, that even with all the best food and beverage outlets and the best customer service in the world, a cinema still needs quality technology that is well maintained, in order to provide the best film experience, which is paramount. This was later backed up by Corinne Thibaut of the Coca-Cola Company, who presented research from Europe which stated that the main Drivers that bring people to the cinema are Content (94%) and Technical Quality (93%).




Congratulations to Phil Clapp and his team for a very successful and stimulating event.

New Products:
We have two exciting new projectors:



The new NEC laser based projector NC1201L.

It has a compact, low noise design, it is flexible, and has a powerful integrated media server.

The new Barco Metal Halide Illuminated Projector DP2K-6E.

This brand new model brings compact, fully integrated and DCI compliant digital cinema projection to small cinemas.
Leasing opportunities:




We have recently offered clients the ability to use leasing facilities when purchasing a projector or sound system from us. If this is something of interest, please contact our Sales Director, Mark Foreman: mforeman@soundassociates.co.uk
Get connected:




We have teamed up with MPS for a programme to complete the UK roll out of LANsat systems . This amazing technology is the icing on the cake for your digital projector, allowing you to access live satellite broadcasts and to receive DCPs via satellite or broadband together with 18TB of library storage. For those of you who don't currently have a LANsat, contact us for some very special offers.

Completed Projects:




University of Essex –

The Student Union Cinema wanted to upgrade from Blu-Ray based offering to DCP playback, so Sound Associates installed the following: a Christie Solaria One PLUS (DCI Projector) + IMB, zoom lens & storage, CP750 (Sound processor), XpanD 3D system and William Sound system.

Soho Farmhouse -

Sound Associates have just played their part in the creation of a unique barn on a unique farm. The Electric Barn is a magnificent state of the art luxury 48 seat cinema and a prominent feature of Soho Farmhouse, the latest hotel and club in the Soho House Group, in Great Tew, near Oxford. It has a similar specification to that used in their post production facility and screening room in Dean Street, London: a Barco 4K projector with a Dolby Atmos sound system, driven by a QSC Q-Sys system.

Maltings Berwick –

This is a lovely multi-purpose venue with a 310 seat theatre, a Studio Theatre / cinema, a bar and a café. Sound Associates installed an NEC NC900C with IMS in a pod, together with a 5.1 surround system.

Vue, Liffey Valley, Dublin –

Sound Associates assisted with the major re-development of this 14 screen multiplex. New screens were added, all other screens were updated, and we moved their Sony projectors onto platform pods, reinstalled sound systems and equipped all screens with Sony EAS DDA equipment.

Ilkley Cinema –

Sound Associates provided their expertise in the design and creation of a 55 seat boutique cinema for the town of Ilkley. This is now the smallest 4K cinema in Europe. Click here to read more >

Samfilm Kringlan, Iceland –

This was the first screen in Iceland to convert to digital in 2006, and with the imminent releases of Spectre and Star Wars, they were keen to modernise to give their customers the best experience possible. SA installed a Barco DP2K15C series 2 projector with Alchemy ICMP server along with a Datasat AP20 sound processor in response to the demand for alternative content.
Flash Sale:

We have an amazing offer on two Sony Digital 4K projectors models, which come with 2D lens, 6 x lamps, server, 15" touchscreen, UPS and three years prime support warranty.




The R510 is now £24,495.00

The R515 is now £29,995.00



Prices exclude VAT, delivery and installation and this offer is only available while stocks last so don't delay!
Call us to talk about your requirements.

"It was great to meet so many of the people I talk to regularly on the phone at the ECA Conference in Piccadilly. There were some interesting speakers and it was a great insight into new technologies and concepts in the Cinema world. And to top off the day I won a chocolate hamper!"



Kate Edwards, Projects Administrator

"The last few weeks have been very busy for our engineers. They have been involved in a wide variety of work from installing state of the art 4k digital projectors to moving projectors from one screen to another, and of course all this is always accompanied by regular service work and emergency call outs. But one additional dimension has been the international geography: in a single week, we had an engineer in The Falkland Islands, one in Ascension Island and two in Iceland. I am pleased to say that our processes and systems, supported by our able in-house teams, hold up well, wherever the engineers are sent."


Steve MacWhirter, Operations Director

Copyright © 2015 Sound Associates Ltd. All rights reserved. info@soundassociates.co.uk / www.soundassociates.co.uk

If you feel your name has been added to this list in error, or if you would like to remove
your name from the list, please click here and your name will be removed.