Email not displaying correctly? View it in a web browser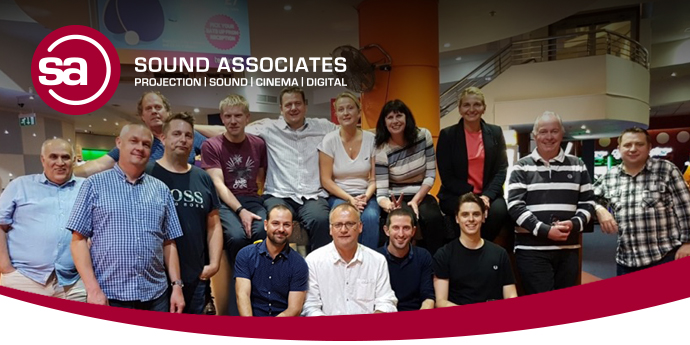 Welcome to our latest Newsletter

I think we would all agree that the summer was a little disappointing as far as movie releases and box office takings are concerned. Dunkirk proved the season's best seller in the UK taking £52.8m, and here was a film that relied on history and wonderful cinematography rather than plot.


We were in fact very busy just before its release, assisting with setting up this film given its unusual projection ratio. Other movies that had been eagerly anticipated such as Valerian (well I was looking forward to it!) and the Emoji Movie 'starring' Sir Patrick Stewart! were definite flops.


But despite the lack of content, we at SA had a very busy summer with an exciting variety of installations that you can read about below.


Now we are into autumn, we are busy with installations and continuing service work right up to Christmas and beyond into 2018.




New Products:


Trinnov Ovation

We are excited to be able to offer a new product manufactured by French company, Trinnov.




The Ovation is an audio processor designed to offer an audio experience tailor made to the auditorium.

Sony Laser Phosphor projector

Here is a preview of the forthcoming new laser phosphor SRX-R800 projector from Sony. Keep an eye on our website for further details and specifications when they become available.


Engineers' Training:

We have seen an increase in the number of immersive audio installations featuring Datasat AP20s, Dolby CP750s and CP850s together with new products such as the Trinnov Ovation so we invited all our engineers for two days of training at our Head Office in West Molesey.

We also focussed on the newest features of the QSC Q-Sys family of processors, highlighting the benefits Q-Sys network based audio can bring to event cinema and conferencing facilities. As well as some structured training they had the opportunity to simply 'have a go' with real examples set up in our test area.

And, as ever, it was a good excuse to have an evening out with everyone including colleagues from Head Office, especially as Graham was paying!
Jobs:


Borth

A 140-year-old former chapel in Borth, West Wales, has been transformed into a stunning boutique cinema and restaurant. This project was a two-year labour of love of owners, Peter Fleming and his partner Grug Morris and Sound Associates are proud to have worked closely with them throughout.


We installed the latest 4K Sony R515 projector with a Datasat AP20 audio processor utilising the latest DIRAC room optimisation so they are now able to offer the highest quality film watching experience.

Vue West End

After a 3-month refurbishment of Vue's flagship cinema, Vue West End in Leicester Square, reopened its doors and was received with great enthusiasm. Sound Associates are proud to have worked very closely with Vue throughout the project, assisting with the design and build of audio and projection systems tailor made to each of the 9 screens.


The cinema is now equipped with 4K Sony R320 projectors throughout apart from screens 5 and 7 where there are Sony Finity R515 double stack systems providing stunning, bright 3D images. Screens 5 and 7 also have Dolby Atmos using Dolby CP850 processors, Dolby Multi Channel Amplifiers and Dolby SLS speaker systems. The result is a truly immersive audio experience. All other screens have been upgraded to 7.1 playback capability with Dolby CP750 processors. We also installed Dolby Fidelio systems for Hearing Impaired and Audio Description disability assistance.


This project was a big challenge but everyone's hard work has resulted in cinema which Vue can be very proud of.

Vue Bedford

August saw the opening of a new 7 screen Vue cinema in Bedford. Sound Associates are proud to have worked very closely with Vue to design, equip and install projection and sound systems throughout this highly anticipated new multiplex. Vue Bedford is part of a new retail and leisure development, Riverside North, on the bank of the River Great Ouse.


There are Sony 4K projectors in each screen with a Sony Finity system (R510 Double Stack) in Screen 1, providing a stunning, bright picture. Four screens have 3D facilities.


There are 7.1 playback facilities throughout utilising Dolby CP750 processors with QSC speakers and amplifiers. Each screen also has a Dolby Fidelio system for Hearing Impaired and Audio Description disability assistance.


The high-quality audio-visual experience together with luxury seating and a wide choice of eating and drinking venues, have received rave reviews.

Vue Preston

Vue Preston has just had a major refurbishment. The 7 screen Cinema at the Capitol Centre has had a new lease of life with a new frontage, a modern foyer and leather recliner seating. As part of the refurbishment, Sound Associates upgraded the auditoriums audio systems to bi-amped 7.1 utilising QSC Speakers and amplifiers.

Soho Hotel

We installed a state of the art Dolby Atmos sound system in the larger of two screening rooms (100 seats) in the Soho Hotel, London.


As part of Firmdale Hotels, this is one of eight luxury boutique hotels in London with rooms designed by Kit Kemp and plays a major part in the Firmdale Film Club.

We used JBL surround speakers and QSC stage speakers which are all controlled by our custom designed Q-Sys control system utilising QSC DPA-Q network audio amplifiers. This provides very flexible audio routing and control capabilities for a variety of different playback requirements.


The audience will now enjoy high quality film presentations of a wide variety of films from Hollywood blockbusters to the latest offerings from Event Cinema and private hire needs of the hotel guests.   

Seaton Gateway Theatre

Located in the old Town Hall, the film club has been transformed thanks to new state-of-the-art digital projection equipment. They are excited to be able to show new releases and event cinema live broadcasts and Sound Associates are happy to have helped them do this. Operations manager Elga Mackie explained: "we now have the same equipment as the leading cinema chains and customers will see a vast improvement in the quality of sound and vision"

Sound Associates installed a Sony SRX-510 projector giving them the ability to play 4K movies, a DataSat AP20 Audio processor that has HDMI switching functionality for Blu-ray, Satellite and presentations along with JBL speakers to complete the cinema experience.

Picture House Campbeltown Refurbishment

This is one of Europe's most historic cinemas, having originally opened in 1913 and SA are proud to have been involved with this restoration from the start.

The main auditorium has just completed its refurbishment and will open to the public shortly together with a brand new second, smaller screen.

For Screen One, Sound Associates are adding a new DataSat AP20 with QSC amplifiers, new colour coded surround speakers to match the wall colouring in the listed building and commissioning their current Barco DP2K-20C projector. Screen two has a new Barco DP2K-6E projector mounted in a pod within the auditorium. The pod is electronically operated to raise and lower the projector for servicing.  This screen also has a DataSat AP20 along with QSC amplifiers and speakers. Both screens with have Dolby's Fidelio wireless audio system.
New Engineers:

We would like to welcome Les Brock to SA. Many of you will already know Les from his many years at Sony. We are pleased that he has returned to the industry, bringing his experience and expertise to our team.


You may have already met our new Service Technicians, James Wood and Kenny Brooks, who joined us during the summer and are already valued members of our engineering team.
New SA baby:

We are very excited to announce the arrival of another SA baby. Congratulations to Mark and Martina on the birth of their son, Lenny.
"Campbeltown has been a challenge not least because of its remote location and listed status, but I'm so proud of the result. This is an historic cinema now with two excellent screens."



Derek Soden, Project Manager

"This has been an incredibly busy time for me. It is not easy making sure that the engineers are in the right places with the right equipment, thankfully our systems are coping well! It is was great to catch up with all the guys when they came to Head Office for the engineer training days!"


Garry Petsuk, Contracts and Service Administrator

Copyright © 2017 Sound Associates Ltd. All rights reserved. info@soundassociates.co.uk / www.soundassociates.co.uk

If you feel your name has been added to this list in error, or if you would like to remove
your name from the list, please click here and your name will be removed.