November 2022

- Battersea Power Station is OPEN

Sound Associates are proud to have worked again with the inspirational team behind the Arches Cinema at Battersea. Three years ago we worked together to open 3 screens in railway arches, which was a highly commended feat of engineering, and now they have opened two stunning new screens at The Cinema in the Power Station.


Battersea Power Station, famous for its four chimneys that featured on Pink Floyd's Animals album, and in many Hollywood films, has undergone a nine year long, multi million Pound refurbishment and now offers a selection of shops, restaurants and a 2-screen cinema.

Screen One is the first independent Dolby Cinema in the world and Sound Associates are delighted to have been asked by Dolby to assist with the installation and commissioning, together creating a truly impressive 240 seat auditorium. It has a Dolby Cinema configuration with a laser powered twin projector, offering Dolby Vision playback and also a full studio specification Dolby Atmos sound system with 46 individual audio channels.

Sound Associates supplied, built and installed the sound system in the Dolby cinema with the final alignment and commissioning carried out by Dolby.

Screen 2, a Sound Associates installation, is no less impressive; it features a Cinionic laser powered 4K DLP projector with a Dolby Atmos sound system with 32 individual audio channels, giving a stunning experience. Sound Associates supplied, installed and commissioned all the projection and sound equipment.

Both sound systems feature QSC Q-Sys audio routing and processing, Q-Sys power amplifiers and Dolby Cinema speakers.

Owner Stephen Burdge said "I am impressed by the way everyone worked together. We have shown that anything is possible when you get the experts together. I am proud of what we have all achieved."

Sound Associates are proud to have played our part in this innovative new venue. The Cinema in the Power Station provides a luxury state of the art cinema experience in an iconic and exciting London venue.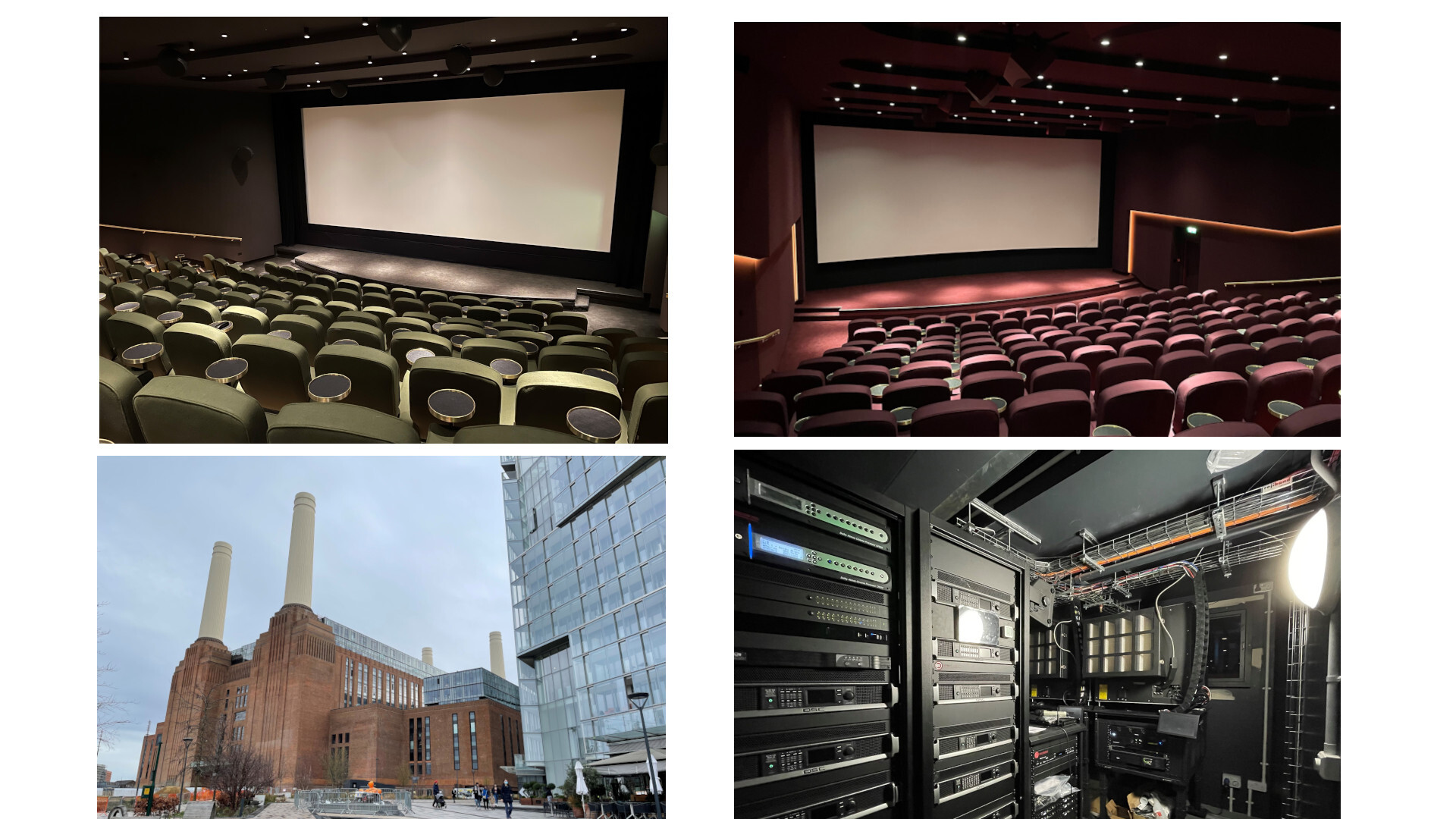 May 2022

- Working Title Sound Upgrade

Working Title wanted to upgrade their ageing sound system. After consultation on various systems Working Title chose QSC and Qsys that included the integration of Dolby products.


Qsys gave Sound Associates the option to house all the equipment within a single sound rack, creating more room in the technical area.

The audio has been upgraded to 7.1 with a Quad-amped screen speaker system using QSC Reference monitor speakers, RSC-112 & RSB212. The QSC speaker system is perfect for a room of this size, with each screen channel having its own subwoofer, more flexibility and control of the audio.

These speakers, together with the baffled wall, make an impeccable sound and then combined with the Barco 4K projector, this is a truly impressive screening room.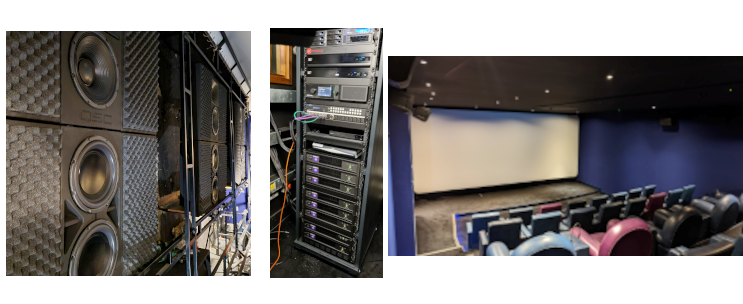 March 2022

- The Regent returns to the Redcar seafront

Sound Associates are proud to have been a part of this project which is close to the hearts of the people of Redcar. The previous building on the seafront became unsafe and was closed. Now following a £9.6million rebuild, in its place, there is a bright, modern (art-deco style), 3 screen cinema with café and sea-facing terrace.


There is quite an array of equipment in this cinema: we installed a Barco SP4k – 12C in screen 1, a Barco SP2K – 7 in screen 2 and a Barco SP2K – 9 in screen 3, each one with Barco Alchemy servers. The projectors are installed in purpose-built pods.

Each screen has a Dolby CP950 audio processors with amplifiers and speakers from QSC.

Each screen also has a wall to wall floating frame screen.

They also have Dolby Fidelio assisted listening system as well as a Rosetta Bridge TMS system.

There is no doubt that the result is a very impressive cinema experience indeed.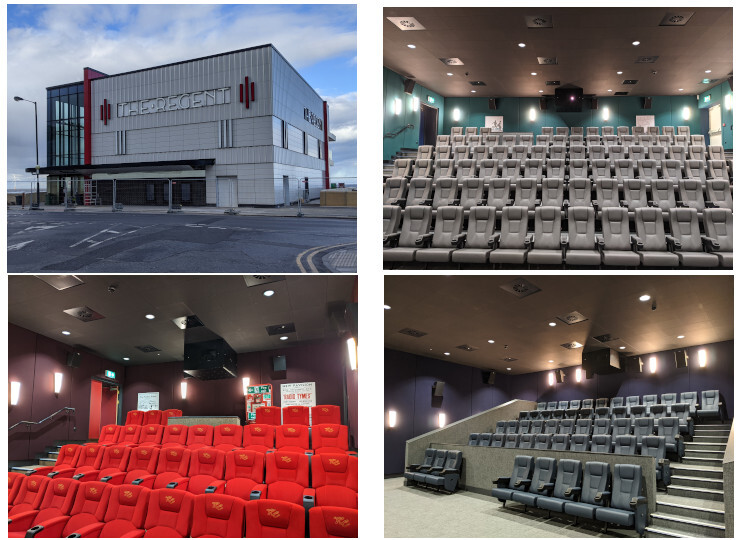 October 2018

- Galeri Caernarfon.

Galeri Theatre Caernarfon has long been one of the leading arts venues in Wales, now, following a £4m extension, it will incorporate the only full-time dedicated two screen cinema in Gwynedd and Anglesey. There are two new state of the art cinema screens that sit alongside the theatre, offering a wide variety of content from the latest movies to event cinema together with conferencing facilities.

Sound Associates are proud to continue our long relationship with Galeri and we worked closely with Gwynn Roberts and his team to create workable solutions in the additional 800 m2 of space.

Both screens have been equipped with Sony 4k projectors, placed on platforms in order to make maximum use of the height available, QSC speakers, AP20s and Dolby Fidelio systems for the hearing and visually impaired. Screen 2 also has 3D facilities.

Sitting within Caernarfon harbour, this really is a venue for the whole community to enjoy.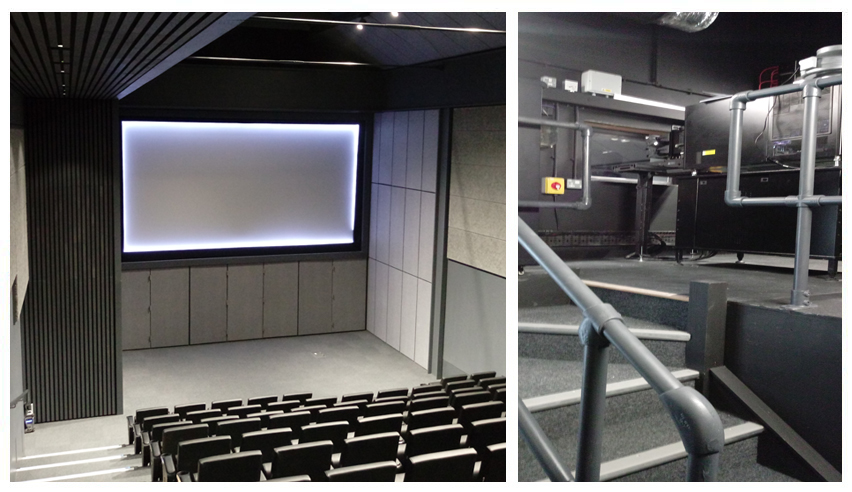 October 2018

- Ilkley Cinema, Screen 2.

Following on from the huge success of Ilkley Cinema which SA installed in November 2015, a second screen has been built directly behind screen 1. With 41 seats configured from sofas and armchairs, once again, John Tate (Director) and his team have created a stylish, intimate cinema.

Just as in Screen 1, the new screen has a high-quality technical spec. We installed a Sony R510 4K digital projector in a pod, QSC and JBL speakers and an AP25 8 channel processor.

With the new screen, Ilkley Cinema is now able to be more flexible in the films it can offer, including independent films, Hollywood blockbusters and Event Cinema.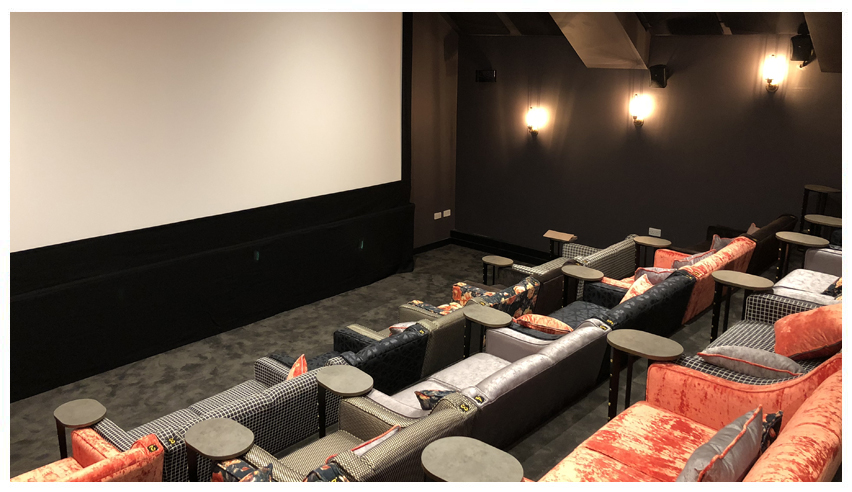 October 2018

- Machrie Hotel.

SA's odyssey around Scotland continued with our recent installation in the new Machrie Hotel, set among the sand dunes on Islay, in the Hebrides.

This is a prime location for golf, but the 47 room hotel wanted to offer a little something extra, namely a state of the art 30 seat cinema with the facility to show everything from Hollywood content to Blu-rays brought by guests.

We installed a Barco DP2K-6E compact DCI projector, on a slide-out shelf for easy access, QSC and JBL speakers, a Datasat audio processor and a Dolby Fidelio system for the visually and hearing impaired.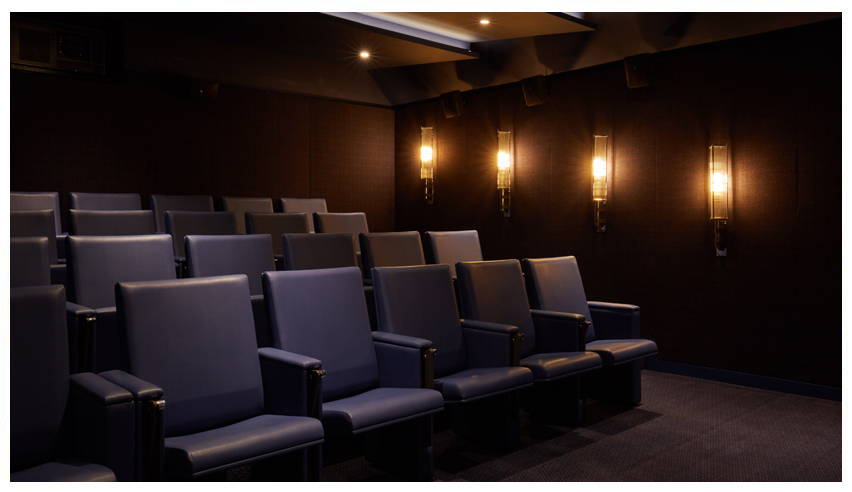 October 2018

- Soho Hotel Cow Room.

Following our successful refurbishment of the projection and sound equipment in the Charlotte Street Hotel screening room, Firmdale Hotels invited Sound Associates to reconfigure the projection room in the Cow Room in Soho Hotel.

We stripped out the 35mm projectors and re-arranged the existing 2 sound racks into one tall rack incorporating QSC Q-Sys audio routing, processing, amplification and systems control. And finally we created a new projector base that neatly houses the Doremi Server and Lansat unit.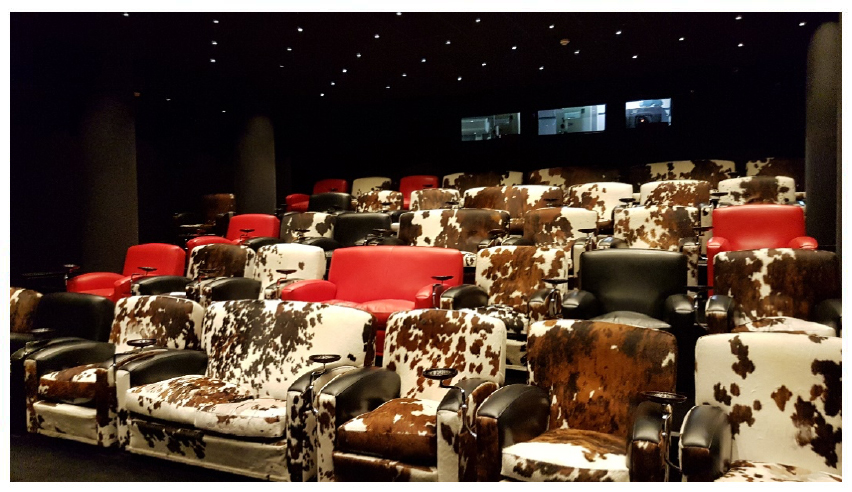 October 2018

- British Board of Film Classification.

Sound Associates have supplied, installed and maintained the projection facilities at the BBFC since 1983. Starting with a pair of 35mm Cinemeccanica Vic 5s with double head and reversing facilities and since then, we have installed 2K DLP technology and now a Barco DP4K 19B.

The screening room is used to classify all UK released cinema content. It runs for many more hours a day than most commercial cinemas.
October 2018

- Royal College of GPs.

Sound Associates recently assisted in a major project to upgrade the projection facilities in the 300 seat Brunei Auditorium in the Royal College of GPs in the Euston Road, London.

This impressive space now has the first Sony R815P laser projector installed in a commercial screen in the UK. The laser phosphor projector was specified by the client to ensure that there would always be good levels of light for presentations even with the lights up!
October 2018

- The Olympic, Branes, Screen 3.

This is a new addition to the highly successful Olympic Barnes cinema. It is a small auditorium (approximately 50 seats) in the basement of the famous old recording studios, featuring an ultra compact Barco DP2K 6E projector with the sound system located in a remote controlroom with a Datasat AP25 audio processor.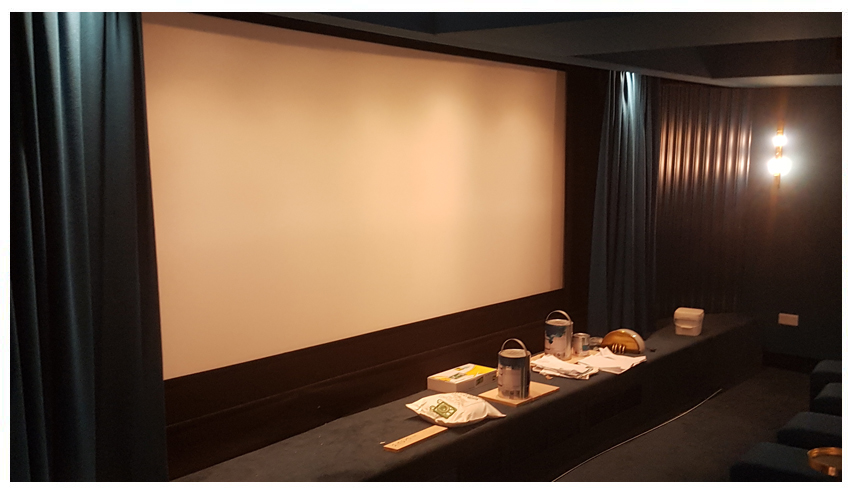 August 2018

- A truly unique cinema.

The Flowerbowl, Preston is a new entertainment centre which is part of the Barton Grange Garden Centre and unlike any other. Sound Associates are proud to have assisted with the layout and design and then the installation of a 3-screen cinema that together with minigolf, curling, and bowling alley form an amazing new venue.

The cinema continues the unique character of the complex. The foyer itself is wonderful with real trees and an almost magical feel. Each auditorium has its own name and colour scheme.

All three screens have new, amazing technological solutions: Barco 6E projectors with Alchemy servers, all controlled by a Unique Rosetta Bridge TMS.

The sound system is also unique, based around QSC Q-Sys technology, with one DCIOH audio input device and QSC 8 channel amplifier per screen all controlled by a single Core 110 processor. This provides a 7.1 sound system in each auditorium with no traditional cinema audio processor required.

SA created a bespoke Q-Sys design that not only allows the showing of feature films but can easily be adapted for conferencing and event cinema. The entire system can be monitored and operated remotely.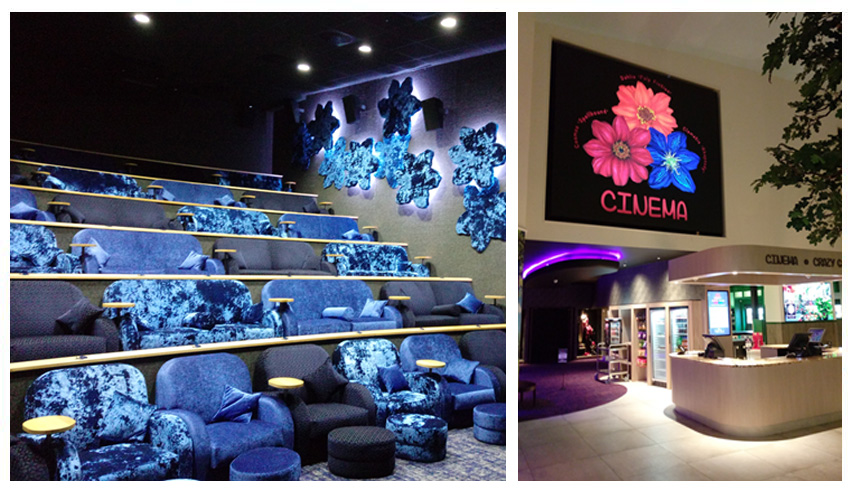 August 2018 - Restoration of the Regal.
Sound Associates are delighted to have been involved in the restoration and relaunch of one of Ireland's oldest cinemas, the Regal in Youghal, east Cork. The Regal was originally built in 1936 and run as a family business until its closure in 2010. The new owners have spent £500,000 transforming this popular venue into a modern, relaxed cinema while maintaining the sense of heritage.
The building has retained the original façade and entrance lobby, but the picture and sound systems are state of the art technology. SA installed Sony R500 series 4K projectors in screens 1 and 2. All audio is 7.1, Screen 1 (137 seats) has a Trinnov Ovation system and screen 2 (62 seats) has a Dolby CP750. Screen 3 will be a multi-purpose space which community groups can use.
This is the welcome return of a cinema that has been a part of the community for so long and which now offers luxury entertainment with a hint of nostalgia.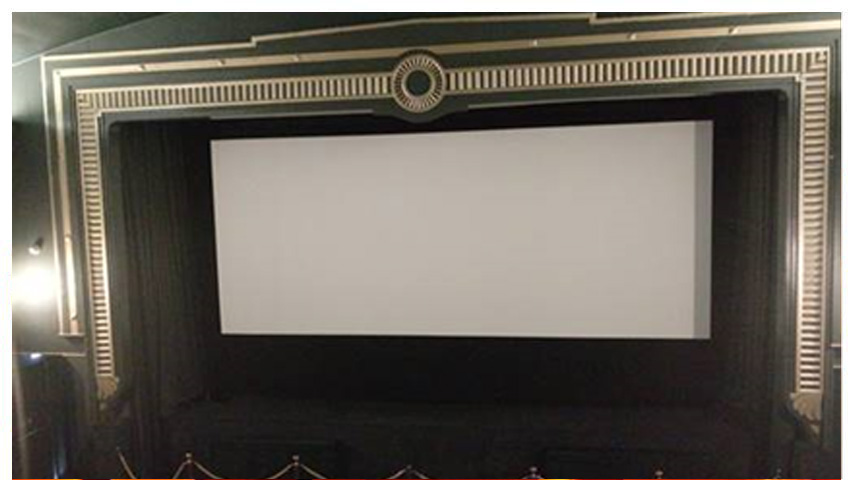 March 2018

- An upgrade with a bespoke Q-sys control system.

Following the success of the Dolby Atmos installation in Firmdale's Soho Hotel, Sound Associates were invited to assist with the upgrade of the screen in their sister hotel in Charlotte Street, London W1.

The projection room already had a pair of Kinoton 35mm projectors and a Barco DP1200 digital projector, all were removed and brought back to the Sound Associates workshop for a good service and a clean, while we built a new rack and base for the Barco and the sound equipment.

We designed a new sound system and automation system for switching and automating the various matrix switchers and video switchers using a QSC Q-Sys control system. The 12U of amplifier space previously required, was replaced with 4U of QSC DPA-Q series power amplifiers to provide Bi-amplification for the stage channels and an upgrade from 5.1 to 7.1 surround playback. Everything was condensed from 2 very full 27U high equipment racks into one 37U rack moved to the corner of the room to make the most of a very small and compact space.

The six radio microphones and six additional stage feeds were all routed and controlled by a compact QSC Touchmix16 mixer which was then connected to the Q-Sys system for routing and playback through the cinema sound system.

An iPad allows for the entire system including the Touchmix mixer to be operated from within the Auditorium.

We commissioned the 35mm projectors, giving the screen the best of old and new technologies. This, together with new carpets, seating and curtains, gives Charlotte Street Hotel a wonderful, state of the art screening room.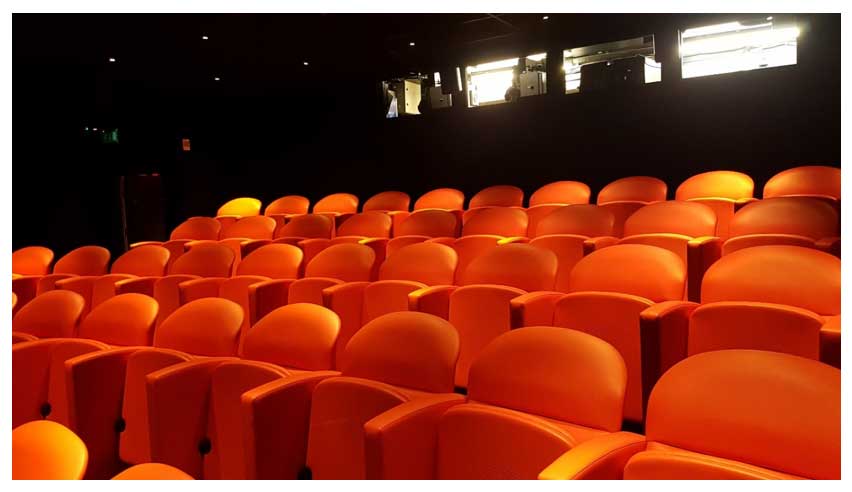 February 2018

- Cinema is art in Eastbourne.

Sound Associates are proud to have helped bring DCI compliant projection facilities to the Towner Art Gallery in Eastbourne.

With the installation of a Sony R510 digital projector and a Dolby CP750 processor, this popular gallery can now offer a broad range of features, complementing its art installations and learning programmes.

While upgrading their cinema equipment, the auditorium and projection room remained unchanged, this meant that we had to be a little inventive to ensure the space was able to accommodate digital equipment. One solution was to place the projector onto a purpose-built track to allow it to be moved forwards for presentations, and back for service and maintenance.

Towner Art Gallery welcomes over 150,000 visitors a year, this new variety of arthouse films and Hollywood blockbusters will expand the selection of visual arts on offer.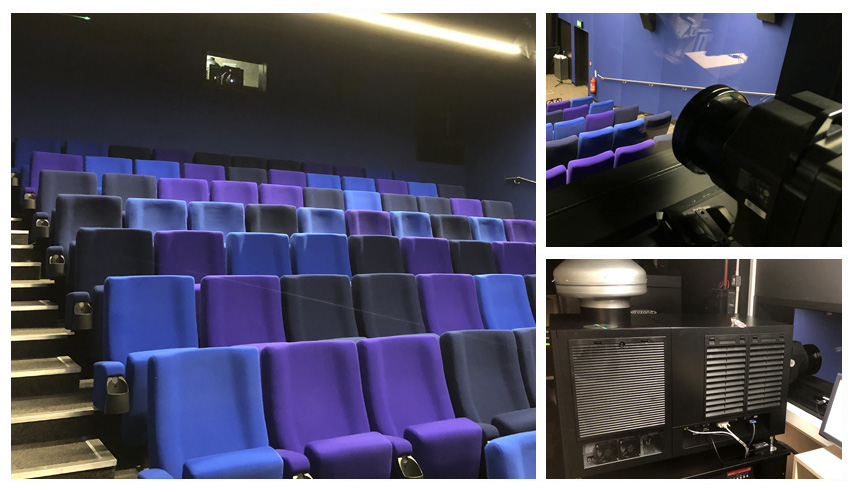 November 2016

- SA back in Malta.

Sound Associates were pleased to respond to an urgent request from our old friends at KRS Malta following the failure of their server. KRS are based in the capital, Valletta and oversee the distribution of all Hollywood content around the 30 or so screens operating in Malta and Gozo.

When their old server died rather suddenly, we delivered and installed a new Doremi IMB/Showvault server. As a result, KRS now have additional storage for feature films together with the additional facility to allow Blu-Ray DVD and satellite receivers to be connected via an HDMI connection to the existing Barco DP2K15C projector.

Our engineer also provided full hands on training in the operation of the server to Mark Pace, projectionist at KRS.

Graham Lodge, SA's Managing Director, said "Sound Associates are delighted to have been able to help KRS with the replacement of their server at short notice and it is great to have renewed our old friendship with Charles Pace and his sons."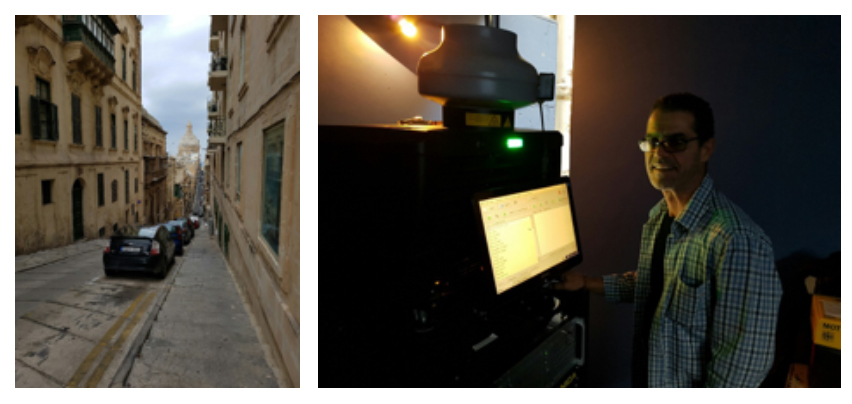 August 2016

- YouTube Studios.

Sound Associates are proud to have been involved in the equipping of the YouTube Studios in the fantastic new Google Headquarters at 6 Pancras Square, London.

This spectacular new building has 3 TV studios, one of these studios has 4K cinema capability. We installed a Barco 4K 23B projector with a CP850 and a Q-Sys audio processing system for the Dolby Atmos configuration. This state of the art "YouTube Space" is available to people who run YouTube channels with more than 10,000 subscribers.

June 2016

- Technological changes have transformed our industry. For the better, asks Graham Lodge?

If my father Peter was still around and involved in Sound Associates, I don't think that he would find anything even remotely recognisable compared to when our firm was UK agent for Cinemeccanica 35mm and 70mm film projectors.

Then, we had shelves and shelves of spare parts covering projectors that had been manufactured in the early 70s and were still in daily use in cinema across the UK and the world. Probably more than 100 unique items per projector type had to be held in the UK for quick despatch to a cinema in need. The intermittent unit was considered to be 'really expensive' at a cost of around £1,500.

We had engineers on hand to talk to those projectionists who were experiencing technical problems — that was the extent of 'remote support' and a short-term fix was typically the removal of a safety wire or holding up a broken bit of metal with a rubber band or a piece of string.
Compare that to the modern day when we are connected via the internet to the vast majority of the digital projectors that we have installed (even down in the Falkland Islands) and the projector reports back issues and potential off-screen events even before the site manager is aware of a problem. The projectionists have all gone, alas — or been 're-assigned' to other duties within the cinema. Some modern projection rooms are only ever visited by human beings when our engineers arrive on their preventative maintenance visits.

We still hold some spare parts, but the vast majority are shipped from the various manufacturers and cost thousands of pounds, sometimes taking a couple of days to arrive — but this seems to be an acceptable solution to many operators. Not that this change is bad — just different.
An accelerating rate of progress Technology has changed at a far faster rate in the past 10 years compared to the 35mm world. In the 10 years since 2006, digital cinema has transformed from an untrusted 'new-fangled technology' where the 35mm was typically left in place as a backup. The digital projectors are now put into smaller and smaller places, installed in a far wider range of venues — not just cinemas — and have been accepted as good, reliable and high-quality units that do their job consistently in a quiet, unassuming manner.
"Some modern projection rooms are only ever vistied by humans when our engineers arrive"
Series one projectors have given way to series two, the trusty xenon lamp now has competition from metal halide, RGB laser and the new, lower-cost phosphor laser light sources, but this hasn't changed the offering to the cinema patron — it has simply changed the economics of how these projectors are going to be paid for.
Other technological changes that are taking place include the new immersive audio systems that utilise lots and lots of speakers placed around the auditorium to provide a more enveloping experience. Dolby Atmos is by far the most accepted at the moment, but competition for an 'open standard' for immersive audio will surely encourage Barco AuroMAX and DTS:X with their offerings — both based on this new, as yet unratified, open sound format?
Integrators — there's a new name that wasn't around 10 years ago — Bell Theatre, Omnex and Sound Associates used to be referred to as installers or dealers, but even those terms seem to have been 'improved'. We are all now simply referred to as integrators together with the other newer entrants to the technical side of the industry. I find it a bit of a bland term, if I'm honest, but it's what we are now known as…
Keeping the customer satisfied Little has changed from the viewpoint of the end customer. They still go to their independent or multiplex cinema, and they still watch the same type of films. The quality is better — no scratches — and the sound is better, and sometimes immersive.
So how does the customer benefit? A wider range of films, consistent better quality, event cinema (which was simply not possible before to any quality level), immersive sound, immersive pictures (3D).
The biggest benefit of new technology, however, is that places that previously never considered showing feature films due to the complexity and cost of equipment are now discovering that they can purchase something that they use as a simple video projector for part of the time, but that has the added bonus of being able to show Hollywood content as well. A whole new section of the population, previously out of the reach of a cinema, can now enjoy the delights of a first-run feature in their local theatre or even in the village hall.
Graham Lodge
Managing Director, Sound Associates


Click here to download the full article in the June edition of the Cinema Technology magazine >
April 2016

- Patreksfjordur - upgraded to a state of the art digital cinema.

Those of you follow us on Twitter will be aware that our Senior Engineer, Antonio, has just returned from a week in Patreksfjordur in the very north west of Iceland, where they have upgraded the 160 seat venue to a state of the art digital cinema.

The cinema in this picturesque village has been a customer of Sound Associates for many years, our managing director, Graham and Project Manager, Derek, installed a Dolby Screentalk subtitling system for their 35mm projector over 10 years ago.

Now Sound Associates have guided them into the Digital world in which they have the ability to watch Hollywood movies at the same time as the cinemas in Reykjavik. When the rest of Iceland went fully digital 4-5 years ago, the community of Patreksfjordur was left with their 35mm projector but without any prints to show. That has all changed. Now they are the proud owners of a Barco DP2K 10S projector with an integrated Alchemy Server. We also installed a USL cinema processor with QSC power amps and speakers. Congratulations!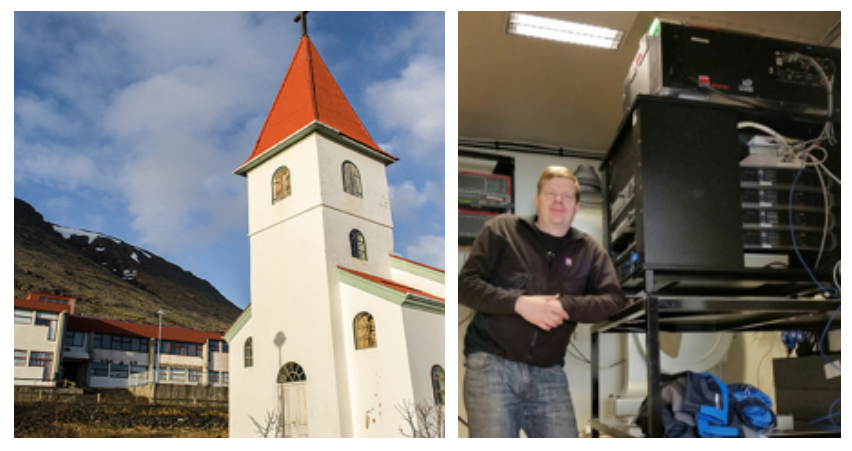 March 2016

- Philips xenon lamps.

As some of you will be aware, we have been selling Philips xenon lamps for a number of years. Since the beginning of the year we are the sole UK reseller of the Philips xenon lamp range in the UK and we now purchase these lamps directly from the factory in the USA.

This not only allows us to have a much closer relationship with the factory technicians but also allows us to offer much more competitive pricing than before. Please ask us for a quote (sales@soundassociates.co.uk) and I'm sure you will be pleasantly surprised at the prices we can now offer. There is also a new range of 'longplay' lamps being released over the next few months that will reduce the operating costs even further – watch this space!



November 2015

- Ilkley has a new cinema.

The Ilkley Cinema opened on 12th November with a highly successful sell-out show of Blade Runner: The Final Cut and now offers a wide selection of films that will appeal to everyone.

Sound Associates were involved throughout the project, from initial design through to the installation and commissioning of the digital projection and sound equipment. Our Project Manager, Derek Soden, brought his knowledge and experience and guided all the major contractors, who had not been involved in cinema before, together creating a delightful boutique cinema for the local community that all should be proud of.

With just 55 seats, this is the smallest cinema with 4K in Europe. We installed a Sony R515 projector onto a small pod, with a Sony XCT-S10 server (2D). There is a Datasat AP20 sound processor with QSC and JBL speakers, conference equipment, and a LANsat server with satellite receiver.

The auditorium offers a feeling of luxury with its sofa seating and tables. There is a bar lounge area to complete the experience.

October 2015

- ECA Annual Conference and Awards.

The Event Cinema Association held its 3rd annual conference on the 19th October 2015 and Sound Associates are proud to have been one of their sponsors.

It was a day for meeting colleagues, for networking, for listening to influential players in the industry and for discussing the latest technologies, opportunities and successes in the thriving area of Event Cinema. The statistics speak for themselves: the income generated by Event Cinema has doubled year on year and there was a definite buzz in the room following the extraordinary success of the NT Live screening of Hamlet just a few days earlier.

The current production of Hamlet, starring Benedict Cumberbatch, was broadcast live from the stage of The Barbican on 15th October and shown in 87% of UK cinemas and in thousands more venues across the globe. It was the highest grossing Event Cinema show of 2015, taking £1.7m just on the opening night (there was another show a few days later).

The shared experience of event cinema, with informative introductions before the 'feature' give people access to cultural and sporting events and increasingly popular gaming events across great distances and involve all types of venue from the multiplexes to theatres and even school halls.

Sound Associates sponsored the lanyards at the annual conference and were excited to see several friends win awards. Congratulations to Simon Tandy from LANsat for his award, congratulations to Kevin and his team at The Picturehouse, Uckfield on winning the Best Independent Cinema in Europe Award and last but not least, well done to our own Kate on winning a Chocolate Hamper!

August 2015

- Hull Truck Theatre.

Sound Associates have just completed an exciting installation in the Hull Truck Theatre's Studio Theatre.

The excitement comes from the fact that this auditorium, with limited space in the control box, can now be used as a cinema, with an emphasis on Event Cinema and will also continue as a theatre. How? We installed the NEC projector onto a scissor lift which allows it to be stored into the ceiling space when not in use.

Our engineers worked closely with the theatre's technical staff, Amy Clarey and Mathew Clowes to ensure that this installation ran smoothly, and indeed the management of Hull Truck Theatre praised Sound Associates "for their efforts and professionalism on this project".

The following equipment was installed: a NEC NC900 projector with IMS (Integrated Media Server) with a sound system comprised of a Datasat AP20 sound processor and a combination of QSC and JBL stage and surround speakers. The Studio Theatre is now a highly regarded and flexible cinema space.

July 2015

- Kino Teatr Choose Sound Associates for Digital Projection and Sound Installation.

There is an exciting new cultural centre in St Leonards-on-sea, which is bringing art, cinema, theatre and live music to the community.

The building itself has been through several incarnations over the past 100 years or more, changing from a cinema to a bingo hall and in the 1980s to a builders merchant. This later use is still reflected in the façade of the current resident, the Baker-Mamanova Art Gallery.

Walk through the renowned gallery, which specialises in modern Russian art, and you arrive in a 100-capacity multi-functional space: a cinema, a theatre and a bar and restaurant.

Sound Associates installed a full DCI compliant 4K projector system. A Sony SRX-R510 projector that utilizes the latest SXRD technology, with Dolby 5.1 surround sound, fulfilled by a Dolby CP750 audio processor with QSC surround sound speakers. The Cinema audio system is integrated with the theatre sound system to optimise flexibility and provide a cost effective package.

We worked closely with Kino-Teatr to ensure that the digital installation allowed the performance space to remain useable as rehearsals were taking place for a forthcoming production: The McGowan Trilogy. The first use of the projector was in fact to provide pre-recorded content on to a screen/cyclorama during the play.

Kino Teatr will be showing a wide range of Blockbuster Movies, Art House Movies and theatrical performances enhanced by cinema quality pictures and sound.

July 2015

- Sound Associates help Soho House create their latest state of the art cinema and post production facility.

Sound Associates have once again worked with the private members' club, Soho House, to build their latest cinema in London's Dean Street.

This stunning 46 seat auditorium is located in the basement of the group's newest London Clubhouse. There is an atmosphere of comfortable luxury and the quality of picture and sound are second to none, thanks to the Barco 4K post production projector, Dolby Atmos Post Production Sound System, all driven by a customised QSC Q-Sys audio system.

Simon Munday, infrastructure specialist for Soho House, was very impressed with the smooth installation process which took place alongside the construction of a brand new members' club in Dean Street, Soho, to complement their existing club and screening facility in Greek Street.

Following the success of this venue, Sound Associates are currently working with Soho House on their next cinema being installed at the new Soho Farmhouse retreat in Great Tew, Oxfordshire, due to open in October 2015.

May 2015

- Home – a new arts centre for Manchester

Sound Associates recently installed Sony 4K digital projectors and QSC powered sound systems in each of the five screens that form part of Home, the new £25m arts centre in Manchester city centre (replacing the old Manchester Cornerhouse Cinema and gallery and the Library Theatre Company).

The opening of this prestigious venue, which also houses two theatres and an art gallery, was attended by film director, Danny Boyle, who is a patron and a loyal supporter of this project. The impressive spec of Sony R515 and R510 projectors, Datasat AP20 sound processors, QSC DCA amplifiers and QSC cinema speakers provides an optimum sound and visual experience, including the ability to show live satellite broadcasts of opera and theatre productions simultaneously in all 5 screens.

May 2015

- Vue Farnborough – a new leisure destination

Congratulations to Vue on the opening of their latest 7 screen multiplex cinema, within Farnborough's Meads shopping centre. Sound Associates played their part in this exciting project which will, according to councillor Gareth Lyon "provide a facility for the town that will benefit the whole community."

Our engineers installed Sony 4K digital projectors, Dolby sound systems and QSC speakers in each of the 7 screens which range in size from 83 to 326 seats.

Apr 2015

- The Lyric Hammersmith reopens with new arts facilities for the community

The Lyric has re-opened following a multi-million pound extension and refurbishment of the original building and Sound Associates are proud to be part of this unique project.

The 120 year old theatre has long played a special role in the community, providing opportunities in the performing arts for local young people, and the new Reuben Foundation Wing incorporates a wealth of impressive facilities: film and TV recording studios, drama and dance studios and a 60 seat cinema. The cinema is to be used for in-house cinema screenings, education and presentations.

Sound Associates were chosen to equip the cinema in this exciting project, installing the latest NEC NC900 DCI Compliant projector with IMS (Integrated Media Server) together with state of the art 7.1 Audio with Datasat AP20 16 Channel audio processor, Crown amplifiers and JBL speakers. A Kramer VP437 scaler is also installed to meet the flexible requirements of the facility. The cinema is provided with a separate PA system.

Mar 2015

- Sony 4K technology comes to Wadebridge, SW England

Sound Associates have just installed a Sony R500-series 4K Digital Projector in the beautiful Regal Cinema, Wadebridge, part of WTW Cinemas.

It was proudly used for the first time for Tuesday's live streaming of Tchaikovsky's ballet, Swan Lake, direct from the Royal Opera House.

This is the first Sony 4K projector in Cornwall and it has been said that the other cinemas in the WTW Group are jealous!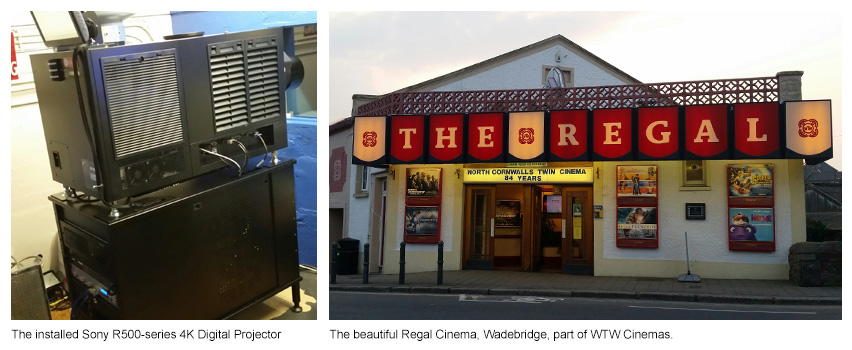 Mar 2015

- Everyman opens in Birmingham's prestigious Mailbox

Sound Associates were privileged to be involved in Everyman Cinema's latest project, a 3 screen cinema in Birmingham's Mailbox. It opened on the 27th February and has been enthusiastically welcomed by local cinema goers since then.

They can now enjoy a very special viewing experience. The three screens (141, 96, and 91 seats) are all equipped with the latest Sony4k digital projectors, 3D capability (courtesy of RealD), Dolby 7.1 surround sound and the latest satellite technology for live broadcasts.

This is all while they experience the traditional luxury of an Everyman cinema, with sofas and armchairs complete with footrests, with red-buttoned walls with brass light fittings and good food served in the bar or brought to their seat.

This is without doubt a stunning new venue in the popular shopping and leisure complex at the edge of Birmingham's canal, next door to the BBC studios and a five minute walk from the amazing Birmingham Symphony Hall.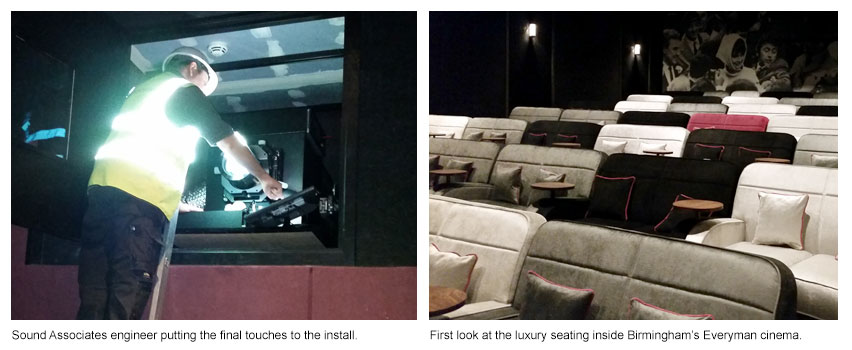 Jan 2015

- A new cinema for Rye

Congratulations to Matt Breckon on the opening of his second Kino boutique cinema this week. Sound Associates are proud to have assisted with the specification and installation of the NEC projectors and Datasat AP20 sound processors, thereby creating a state-of-the-art two screen cinema with an additional function/screening room.

It is in a beautiful old library building, which has been lovingly restored, and they have successfully created a comfortable, cosy atmosphere in both the bar area and auditoriums. It is a welcome new addition to the town of Rye which hasn't had a cinema for 42 years!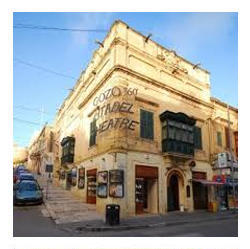 Dec 2014

- Maltese island of Gozo gets its cinema back

On December 12th, Gozo, the sister island to Malta, jumped to the very latest digital cinema technology as its only cinema re-opened after a hiatus of over a year.

We provided the systems for this project, which was funded by the Maltese Government. The Citadel Cinema is now proudly showing the best in 4K SXRD technology from Sony and 7.1 surround sound, and Gozitans can enjoy the pleasures of the latest Hollywood releases and a great immersive experience. For more on this story, read the article from the Malta Times.

More about Citadel Cinema in Gozo - click here
Dec 2014

- Spectacular new technology concept launched at the Genesis cinema

Sound Associates were in the audience to witness the world's first PHILIPS LIGHTVIBES enhanced concert at the Genesis cinema in East London on Tuesday 2nd December.

Based on a special concert by Keane in Berlin on their tenth anniversary, it featured ten ambient light panels installed at either side of the main auditorium. The panels provided an immersive visual experience, sometimes echoing and at other times counterpointing the central image on the screen.

For this rock gig the panels did provide an extra vibe which enhanced the enjoyment of the live concert, as they mimicked the light show and brought it all around the audience.

With immersive sound now available in some cinemas, is immersive light the next step? Our research after the event suggested enthusiasm for the concept, but that this technology needs adopters to make it available exclusively and selectively. How amazing would it be to blow audiences away with a full sound and vision immersion!

More about LightVibes - click here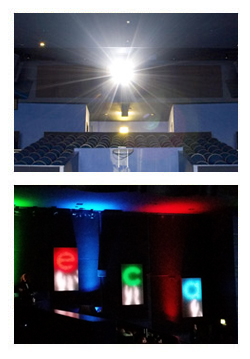 Oct 2014

- Events come of age at the ECA Conference

This conference reinforced the exciting potential of Event Cinema, for exhibitors and everyone right through the supply chain.

The opportunities for extending the reach of cinemas have never been so exciting, and new models for filling up the dark hours of theatres and cinemas were explored. The outstanding success of the Billy Elliott event, shown in cinemas around the UK, and yielding £1.9m in takings, is proof that the potential of alternative content is maturing into real revenue streams.

It might be sport, which we heard has been the most popular event in Poland, or opera, which has literally transformed peoples' lives, as well as live theatre, or even video games. There are fresh audiences too, coming at new times, enjoying different content , many enjoying the comfort and intimacy of the cinema experience for the very first time.

The conference was held on 16th October 2014 at the beautifully restored art deco Genesis Cinema in East London. The Event Cinema Association hosted it and now boasts 73 members, reflecting the buzz around this fast-growing and dynamic area. Indeed Event Cinema in the UK has grossed £19m in the past year.

Sound Associates were sponsors of the conference and we were everywhere. The most popular give-away was our iconic mini- cinema torch, and almost every one of the 200 attendees now have one to light up their lives.

We also used the event to launch our new strapline, Go to the next level, and it chimed perfectly with the main themes of the day. Event cinema is going to the next level, and we can take you there.
Sept 2014

- Selfridges has opened the world's first in-store cinema

Selfridges has opened the world's first in-store cinema in collaboration with Everyman Cinemas. Sound Associates is delighted to have been involved in this breakthrough project in the basement of the Oxford Street store.

The first 12 films were selected by in-store designers such as Paul Smith, Marc Jacobs and Oscar de la Renta and they included Breakfast at Tiffanys', Breathless as well as 2014 box office hits: The Grand Budapest Hotel and The Wolf of Wall Street. And it continues to show a wide variety of films.

"Shopping is a fun form of escapism, so to offer our customers access to the escapist power of cinema within Selfridges, makes for a great combination." said Selfridges creative director Linda Hewson.

Everyman Cinemas chief executive, Andrew Myers agrees that shopping and cinema go hand in hand. "What a perfect way to relax after a hard day of shopping - put your feet up and let us spoil you with a nibble, a drink and a great film."

Aug 2014

- The 2 screen Leisure Cinemas complex in Gibraltar

The 2 screen Leisure Cinemas complex in Gibraltar is a family business that has been in the cinema business for over 50 years. The small Gibraltarian community of 30,000 has always avidly followed the latest releases from the UK, but air freighting in the 35mm films was often beset with physical and logistical difficulties.

It was therefore with a certain amount of nostalgic regret that Leisure Cinemas made the necessary change to digital. The serious investment made by Leisure Cinemas has allowed for the installation of two 4K Barco projectors and associated Dolby DSS220 servers to be installed. We are very proud to now be able to offer the loyal Gibraltarian public stunning imagery and sound. They can look forward to a revitalised programme of screenings that will include 3D versions of the latest releases and live events brought to Leisure Cinemas in Gibraltar from the heart of London. Opera, Ballet & Theatre of the highest standard will soon become much easier to experience in the comfort of their local cinema.

Technical Manager, Stephen Cumming was impressed with Sound Associates' planning and efficient installation of the equipment over such a short period. The old projectors were removed, and the new equipment was set up and tested in one seamless exercise lasting just five days.

Managing Director of Leisure Cinemas, Odette Benatar is extremely pleased with the conversion and happy to have contracted Sound Associates to carry out the work. The Gibraltarian Cinema's long association with Graham Lodge and his father before him at Sound Associates has provided for real confidence and a great working relationship.

Graham Lodge, Managing Director of Sound Associates commented "We are delighted to be working with Leisure Cinemas on the conversion of their two screens to Barco 4K DLP Projectors with Dolby 3D – the opportunities for showing not only Hollywood releases alongside Opera and other live events are enormous and we look forward to working with Odette and her team at Leisure cinemas to make the best use of their new facilities"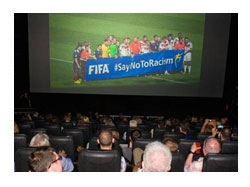 July 2014

- Sony 4K - Live from Brazil

Last week Graham and Jerry were invited to attend a screening of the World Cup Quarter Final match between France and Germany at Westfield, White City.

The 4K live stream was via satellite and in Ultra High Definition and was truly spectacular.

The picture quality was stunning and the match was pretty good too!


Thank you to Sony and Vue for once again pushing the boundaries and delivering an
unforgettable cinema and sporting experience.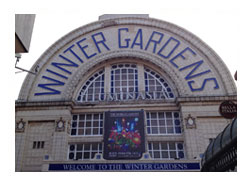 June 2014 Press Release

- Winter Gardens in Blackpool

Sound Associates are delighted to have brought cinema back to the Opera House at the Winter Gardens in Blackpool – a 3000 seat Grade 2 Listed building.

Following extensive discussions with the Owners of the Winter Gardens Sound Associates were appointed to install state of the art digital projection and sound facilities including 3D capability into this magnificent building.

The first cinema performance in the Opera House today 4th of June is the blockbuster feature film Gravity and on Friday the first live event broadcast of the D-Day Concert is beamed live via satellite from the Royal Albert Hall in London. Click here to view the Wintergardens website for more details.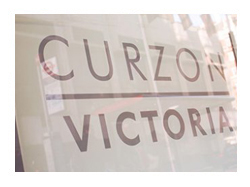 May 2014

- Curzon on the opening of their latest cinema

Congratulations to Curzon on the opening of their latest 4K Digital cinema.

Curzon Cinemas, the boutique cinema chain, has opened its seventh London location – a new 5 screen complex in Victoria's new entertainment destination. The Curzon Victoria is part of a major London expansion by the company and the new site almost doubles the number of screens that they operate in the Capital.

Equipped with the latest Sony Digital 4K projectors, full 7.1 Sound Systems throughout and with 3D systems and satellite facilities in selected screens, all installed and configured by Sound Associates.

The Curzon cinema chain opened in Mayfair in 1934. Visitors on opening night were treated to a showing of Austrian filmmaker Willi Forst's Schubert biopic, Unfinished Symphony, which set the precedent for the company's long and illustrious career of championing cultural cinema from around the world.

Curzon Victoria is located on 58 Victoria Street, London SW1E 6QW.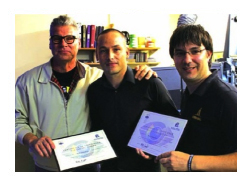 December 2013

- Plaza Truro win Projection Team of the Year

Congratulations to the projection team at the WTW Plaza cinema in Truro who have been awarded the Projection Team of the Year by the CTC members.

Annually, the members of the Cinema Technology Committee (CTC) vote from a shortlist of candidates and the Plaza Truro was this year's winner. The award was presented at the CTC Projectionists Christmas Party at Dolby House.

In addition to the award, two of the team, Mark Connaughton and Adam Webster, were presented their BKSTS Projection Certificates by The Observer film critic and radio presenter Mark Kermode.

The Plaza @ Truro originally opened in 1938 and was purchased by WTW Cinemas in 1996. Following extensive refurbishment and reconstruction, The Plaza was re-opened to the public in July 1998.In recent years the Plaza has been voted RAAM Independent Cinema of the year for 2006 and runner up in 2009.The four screens cinema uses NEC digital projectors and Dolby sound equipment, supplied and installed by Sound Associates. 3D and satellite equipment was also installed by Sound Associates and, as the certificates prove, the projection team have mastered all of the new technology.

Well done to the team at Truro.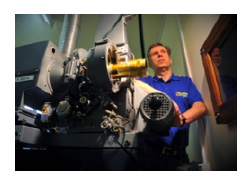 December 2013

- Hollywood Cinemas goes digital with Sony 4K projector

Sound Associates recently completed the digital conversions at Hollywood Cinema sites in Dereham, Great Yarmouth and Norwich.

Trevor Wicks – Director of the group of cinemas commented "The wonderful 35mm film projectors which have stood the test of time for many, many years are being replaced by Sony 4K high definition digital projectors," said Trevor Wicks, adding that he believed the cinema was one of the last in the country to change over to digital.

"Just getting hold of 35mm film is difficult now because there are less and less about. There used to be about 1,000 35mm prints across the country for a new film, now there are between 20 and 30," he said.

"The 35mm cinema is coming to an end due to the digital conversion. The film distributors have said they want to release their films in digital rather than film after 100 years of cinema."

He described the new Sony 4K projectors as the "creme de la creme" of digital projectors and said they had the highest picture quality he had seen.

"I was absolutely amazed by the quality of these 4K projectors, particularly with the family films, the cartoons. The Pixar cartoons really stand out - it is like 3D without the glasses," he said.

But he also lamented on how the disappearance of 35mm film was the end of an era.

Sound Associates carried out the installations of the projectors and Sony's Theatre Management systems and upgraded all of the sound systems across the group.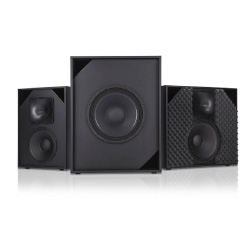 December 2013

- New QSC speakers and Processors
QSC has announced three new cost-effective loudspeakers for smaller cinemas and a New Processor
SC 1120 12" 2-way passive screen channel loudspeaker
A cost-effective screen channel loudspeaker for cinemas up to 11 meters long With a 12" woofer and a 2.5" voice coil for exceptional low frequency reproduction. The LF woofer crosses over into a high frequency compression driver with 1.75" voice coil. Both drivers are combined in a single enclosure and are designed with a built-in passive crossover The shallow depth (less than 12 inches) reduces space requirements behind the screen.
SC 1150 15" 2-way passive screen channel
A cost-effective screen channel loudspeaker for cinemas no longer than 14 meters. With a 15" woofer and a 3" voice coil for exceptional low frequency reproduction. The LF woofer crosses over into a high frequency compression driver with 1.75" voice coil. Both drivers are combined in a single enclosure and are designed with a built-in passive crossover. The front baffle is treated with sound absorbing material, reducing behind screen reflections. The The shallow depth (less than 12 inches) reduces space requirements behind the screen.
SB 1180 18" subwoofer
The DCS SB-1180 subwoofer addresses the extended low frequency requirements in small room applications. With a single 18" woofer with 4" voice coil for extended low frequency reproduction. With an enclosure depth of less than 12 inches, the SB-1180 is one of the shallowest subwoofers available, reducing space requirements behind the screen.
---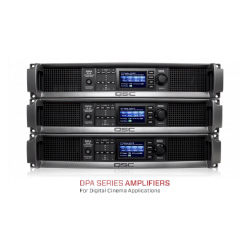 DPA Digital Processor Amplifiers
DPA Digital Processor Amplifiers made their debut at ShowEast. The three new amps are expected to be available in February, 2014. The DPA amplifiers are high power 4-channel amps that are ideal for driving multiple surround speakers for object-based audio systems. DSP presets are provided for QSC cinema speakers to speed set-up and assure maximum performance.
See this link for more details: http://qsccinema.com/marketing/power-amplifier-redefined/
November 2013

- Thurso Cinema Highly Commended in National Screen Awards

The Scottish Parliament has recently recognised the success of the Thurso cinema.

David Stewart MSP congratulated the Thurso Cinema in Caithness on being recognised as one of the top cinemas in the country after being shortlisted in the Screen Awards 2013.

The Thurso Cinema opened its doors to the public in July 2012 following a full digital installation of Sony R515 projectors and new sound systems by Sound Associates.

In its first year the cinema has had 65,000 customers and its success has opened the opportunity for similar cinemas elsewhere in the Scotland.
March 2013

- Sony Digital Cinema Partners with Eclipse Cinemas - The first fully equipped 4K cinema complex in Ireland

Eclipse Cinemas, Bundoran, has today become the first cinema complex in Ireland to be fully converted to Sony 4K. Eclipse Cinemas are an Irish independent cinema group which have had 12 Sony 4K projectors installed across two of its three venues, Bundoran in Co Donegal & Downpatrick in County Down.

These will also be equipped with the Sony 3D solution, allowing cinema-goers to enjoy the best possible picture quality and entertainment experience. The installation also means Eclipse Cinemas now has the ability to offer new services beyond traditional mainstream content, such as comedy, sports, music, theatre, opera, multi-user big screen gaming and cultural events.

The organisation already plans to screen live Irish sporting events such as Six Nations Rugby, International Football and Gaelic Games, offering customers an alternative solution to watching it at home that brings a taste of the atmosphere and occasion right inside the cinema.

Click here to view the full article.

DCinema Today
March 2013

- Theatr Mwldan: Sales rise after digital cinema expansion

An arts centre in Ceredigion is bucking the economic downturn after a major expansion last year has seen sales rise by nearly 40% and new jobs created.

The not-for-profit Theatr Mwldan in Cardigan began life as a community theatre project in the 1980s and has since become an entertainment complex.

A new 101-seat digital cinema opened its doors last year after Mwldan secured a Welsh government-backed loan.

It was developed alongside the venue's two existing digital screens.

Click here to view the full article.

BBC
March 2013

- Final reel for 'oldest' Colwyn Bay cinema 35mm projector

One of Britain's oldest working cinemas is finally catching up with the 21st Century and going digital. Theatr Colwyn in Colwyn Bay is one of the last places in Wales to "retire" its traditional 35mm flim screenings.

The film reels have been in use at the theatre since January 1909, staking its claim to be the oldest working cinema in the UK.

Click here to view the full BBC article. BBC

Click here to view Time-Lapsed video documenting changeover. Paul Sampson - FocusedImage.co.uk
February 2013

- Norden Farm selects Sony 4K to digitise content, expand its offering and improve picture quality for film-goers in Maidenhead

Sony Digital Cinema has today announced that Norden Farm, an Arts Centre based in Maidenhead, has installed its new 4K projector to transform the viewing experience for customers, enable the delivery of alternative content, and boost its corporate offering, allowing the organisation to deliver a wider range of services to its local community.

The Sony SRX-R515, Sony's latest 4K digital cinema offering, will see the Arts House transition from analogue film based on 35mm projectors to a more reliable, better quality and future-ready digital offering.

The new projector will be installed in the organisation's main, 200-seat auditorium by Sound Associates, one of Sony's Authorised Dealers for the UK and Irish Cinema market. The installation will ensure the Arts House is able to offer its customers the very best picture and sound quality, while also allowing it to diversify into offering new entertainment experiences – such as opera and theatre. The superior image quality will make the venue more attractive to corporate clients looking to stage presentations and events, while also easing the administrative burden and operational costs associated with screening different types of content.

Click here to view the full article.

Sony
June 2012

- Bright sparks and craftmanship from Philips

Jim Slater visited the Philips xenon factory in Los Angeles and saw how some of the highest technology products are the result of the application of hands-on craftmanship.

Click here to view the full PDF article.

Credit Cinema Technology
May 2012

- SSVC Forces Cinemas – Recent Achievements

For over fifty years SSVC Forces Cinemas has been providing the very best in big screen entertainment for British Forces and their families around the world. Today's circuit spans ten time zones and consists of 18 single screen cinemas: six across Great Britain and Northern Ireland, eight supporting British Forces in Germany, three in Cyprus and the only cinema facility in the Falkland Islands. In addition our state-of-the-art mobile 'Movie Machine' provides part of the 'Decompression' package for Forces personnel returning from Operations in Afghanistan and the wider Middle East.

SSVC Forces Cinemas is part of the Services Sound and Vision Corporation, the Forces charity that provides BFBS Radio and TV – broadcasting to British military personnel, including troops in Operational Areas and Royal Navy ships at sea. SSVC is dedicated to entertaining and boosting the morale of HM Armed Forces around the world, and providing a vital connection to loved ones at home.

Always striving to provide the very best entertainment experience for the Forces audience, SSVC Cinemas are currently undergoing a large digitisation project, the end result of which will see the implementation of the latest digital technology with the installation of Barco Digital Cinema Projectors; Dolby Servers - an all-in-one platform to store, decode, and deliver movies; and Dolby 3D with lightweight reusable 3D glasses for both adults and children.

Nick Pollard, the Chief Executive of SSVC said: "SSVC Cinemas have always played a vital role in supporting the morale and welfare of our armed forces and their families. We are delighted to be able to continue to fulfil this role for years to come based on the latest, up to date digital technology, providing the best possible viewing experience for our audiences."

Surrey based specialists Sound Associates, with fifty years of expertise in the field, were selected to carry out the upgrades, both in the UK and overseas. Graham Lodge, Managing Director of Sound Associates said: "We are thrilled to have been able to work with and assist our long term colleagues within SSVC to help deliver this important project – to know that we have been a small part of ensuring that our troops have the opportunity to see the best that cinema has to offer, on the best and newest equipment that is available, (including 3D!) has been rewarding for both myself, and also for our engineers that have carried out the work here in the UK and overseas."

Eleven sites have already completed their digital upgrades with the SSVC Welfare Fund gifting one third of the cost. The Welfare Fund is perhaps the least known aspect of our organisation, it gifts on average, over a quarter of a million pounds each year on substantiated requests from service personnel. The fund so far has donated £30,000 each to upgrade Forces Cinemas at RNAS Culdrose, the Falkland Islands, Northern Ireland, five sites in British Forces Germany and all three sites across Cyprus. The Army Central Fund, Royal Navy and Royal Marines Charity, RAF Central Fund, the Nuffield Trust and the Army Welfare Grants Committee have also provided generous financial support. In addition, welfare support and fundraising efforts at base level have been invaluable. Two further cinemas in the UK will be the next to be converted - the SSVC Cinema evolution is well underway.

All SSVC cinemas are run in partnership with the their local military units. The service provided by SSVC includes all film selection and negotiation, full marketing and publicity support, scheduling to individual unit requirements, freight, engineering support and complete financial management and distribution of revenue. The military units provide the staff, many of which are volunteers.

SSVC in general and SSVC Forces Cinemas specifically provide a massive welfare boost to British troops and their families stationed around the world. Helped in no small part by the support of the UK's film distributors whose generous supply of content for the circuit as a whole, and for big on-release screenings, coupled with our digital conversion initiative, has led to a significant upsurge in attendances.
January 2012

- RNAS Culdrose

Continuing its work with SSVC (the Services Sound and Vision Corporation) Sound Associates has just completed the transition from 35mm projectors to digital technology at the RNAS base in Culdrose, Cornwall.

The site will be opening on Thursday 12th 2012 with an advance screening in 3D of the latest 20th Century Fox film - The Darkest Hour.

Following recent digital conversations in Cyprus and Germany, SSVC continues to ensure that our troops and their families get to experience cinema in its finest form. Sound and projection have all been upgraded and the addition of 3D ensures that the cinemas remain "state of the art".
Novermber 2011

- The First UK installation of the Barco DP2K-P Post Production Digital Cinema Projector

Sound Associates have recently completed the UK's first installation of the Barco DP2K- P- a digital projector specifically designed to meet the needs of the post production market. To meet the specific needs of post-production houses, the DP2K-P projector delivers an improved contrast, superior brightness uniformity, and a greatly expanded colour gamut.

The DP2K-P post-production projector is bundled with a special version of the Barco Communicator software, enabling full customization of 2D and 3D look-up tables and increased control over the colour space.

The installation was carried out at the London offices of Onsight
Novermber 2011

- Everyman Maida Vale

At the end of November, Everyman Cinemas opened its latest London venue – the 2 screen cinema at Maida Vale.

This iconic venue was previously open as a restaurant – the one that featured in the film "About a Boy".

The Everyman cinema group have taken a disused restaurant and turned it into a vibrant two screen cinema which is capable of showing first run movies, 3D movies, classic films, alternative events and it is also available for private hire.

Sound Associates were involved in the project from its inception and assisted in key elements of the design. The sound and projection systems are all state of the art – NEC projectors with XpanD 3D systems – and are all monitored through a Sony CHIPS rack.

The venue opened to rave reviews and Everyman have established a "destination cinema" in an attractive part of London.
October 2011

- SSVC Cyprus

SSVC (the Services Sound and Vision Corporation) is a registered charity with the aim of entertaining and informing Britain's Armed Forces around the world.

For over fifty years, SSVC Cinemas has provided hundreds of thousands of hours of entertainment for British Forces and their families around the world. Now Sound Associates have helped SSVC cinemas join the digital revolution by converting all three cinemas in Cyprus - the Astra Akrotiri, Key Dhekelia and Mercury Ayios Nik - the with the latest digital cinema technology.

The conversion required the decommissioning and removal of the 35mm equipment, which was replaced by the latest Barco DP2K-15C projectors. The cinemas opened with Twilight: Breaking Dawn Part 1 on Wednesday 30th November and on Friday 2nd December the audiences experienced 3D for the first time with The Adventures of Tin Tin.
October 2011

- Sony Press Release

Of the approximately 3,500 cinema screens in the UK it is estimated that by the end of next year over one thousand of them will be equipped with Sony 4K digital cinema projectors.

Driving this momentum are two key theatrical systems integrators who made the decision to work with Sony based on the unique technical capability to project 4K and deliver on demand 3D. Sound Associates has worked with Sony on the installation of its digital cinema projectors since October 2009. Its installations includes 79 projectors for Apollo Cinemas – 50 per cent of which are 3D enabled; 11 for the Everyman Cinema group; one to a hotel cinema in central London and over 200 screens so far for Vue Cinemas, including 17 for the brand new flagship site at Westfield Stratford City, the 2012 Olympic venue.

"From an integrator's point of view, working with Sony gives a one stop solution whereas with other digital cinema solutions we have to integrate a projector from one company with a server from another," explains Graham Lodge, Managing Director. "Whilst that is 'what we do' as integrators, the Sony solution is less complex. Having a manufacturer that supports the product to such a high level makes life much easier for us."

All of the equipment is monitored by an American company - Convergent. Everything is IP connected all the time so issues can be seen and often fixed before there's a problem." A key part of the system is establishing a working IP infrastructure that is robust and secure enough to enable these activities and allow digital content to be sent and received. As part of this, Sony can provide a highly effective, consistent, reliable and secure solution tailored to individual cinema needs. This includes network design engineering, provision and installation, field service and maintenance, backed by 24/7 monitoring and support.

The move to digital cinema offers many advantages, from improved quality to new revenue streams. It also opens the door to a whole range of services that allow cinemas to integrate all aspects of the multiplex into a faster, better-run operation. Sony is working with thousands of cinemas across the world to manage the move to new technologies, backed by the Sony quality assurance and a range of integrated services centred around Sony 4K.
August 2011

- Vue Westfield

In August 2011 Sound Associates proudly completed the sound and projection installation at the latest Vue cinema – the exciting 2,500 seat cinema at Westfield Stratford City. The cinema is in the heart of the Westfield complex, which boasts a large number of world renowned shops and restaurants.

This is one of one of the largest all-new, all-digital cinemas in Europe with 17 all digital screens, at the gateway to London's Olympic Park in the heart of Stratford City.

Featuring Sony 4K digital projection, Incredible Vue Digital 3D and Dolby 7.1– Vue Westfield Stratford City is leading the way in innovative cinema technology. All screen have stepped stadium seating and there are over 500 luxury VIP seats throughout the cinema.

Sound Associates also installed the five Real D 3D enabled screens and the two VueXtreme super-sized large format screens.
May 2011

- Lighthouse Cinema, Newquay

Continuing its long relationship with the WTW cinema group, Sound Associates completed the sound and projection installation at the new Lighthouse Cinema in Newquay in May 2011.

As the first, purpose built all digital cinema in the South West, The Lighthouse brings the world of big screen entertainment back to the town for the first time in 16 years.

The 650 seat venue has four screens all featuring digital NEC projectors, and two of the screens are also equipped with MasterImage 3D systems. All screens have Digital sound systems and wall to wall screens for maximum picture size.

Screen one also features Dolby Surround 7.1 sound for selected films.

The family-run business, WTW Cinemas, owns and operates cinemas The Plaza in Truro , White River Cinema in St Austell and The Regal in Wadebridge.
May 2011

- Graham Lodge accepts Apollo Cinema's first ever special recognition award

On Tuesday evening (10th May) Sound Associates attended the Annual Apollo Cinemas awards ceremony – an event where Apollo recognise excellence within their cinemas in a variety of categories – to present the "Projection Team of The Year" award – won this year by Apollo Fareham.

This year there was something of a surprise – for the first time Apollo introduced a Special Recognition Award – and Graham Lodge was called to the front to receive an engraved plaque that is now proudly displayed in our meeting room.

We are grateful that our work with the Apollo Group has been recognised and we look forward to continuing to work alongside their local management teams in the future.

Thank you Apollo!
May 2011

- XDC, the n°1 digital cinema service company in Europe deploys the 1000th digital screen contracted within its European VPF studio agreements.

And the installation was carried out by Sound Associates.

The 1000th digital installation is at the "Rio Cinema" in Dalston, London, UK, a member of the DFP (Digital Funding Partnership). This marks the first installation under the DFP/XDC deployment agreement.

Serge Plasch, XDC CEO, said: "We are very excited to have reached this important step and especially with the Rio Cinema being a member of the DFP which we are very proud to be working with, it's a double celebration!"

Charles Rubinstein, General Manager of The Rio Cinema said: "We are impressed with the speed that XDC supplied and installed the system through Sound Associates. We had a deadline of 1st May and fortunately the DFP and XDC were able to arrange our installation to meet this. We are all highly delighted and relieved!"

Steve Perrin, CEO DFP added:"Congratulations to XDC on their 1000th installation! I am especially pleased that it is the Rio cinema that achieved this milestone for XDC. It really emphasises what the DFP is all about when we can help our traditional independently owned cinemas like this. We are all looking forward to the main phase of our roll-out in the very near future.
Mar 2011

- Vue cinema group to install Sony Digital Cinema 4K projection for all screens in all of the group's 68 sites

Sound Associates are delighted to be working with Vue Cinemas and Sony Digital Cinema on the rollout of 4K projectors across the whole of the Vue estate.

Following the signing of a formal agreement between the two parties, Vue Entertainment will become the largest European cinema chain to be equipped with Sony's 4K digital cinema projection technology. All of the 657 screens across the 68 sites will have Sony projectors, with approximately 30% of the screens being 3D enabled. Sony's CHIPS theatre management system will be installed across the estate.

Sound Associates have been fortunate enough to have worked with both Vue Entertainment and Sony Digital Cinema in the past - equipping the Vue new build sites with sound and projection and supporting Sony to deliver other digital rollouts. This project encompasses the supply of some of the equipment requirements, the installation and commissioning of the projectors and theatre management systems, and the post installation support.
Feb 2011

- RAAM Award Winning Cinema Chooses Masterimage 3D

Masterimage 3D supply Independent cinemas in UK WTW Cinemas, who operate 10 screens across three sites in Cornwall, UK won the prestigious RAAM Award for Independent Cinema of the Year 2011, which was presented in February at the Marriott Hotel, Grosvenor Square, London.

The independent, family-owned cinema company has been in the cinema business for over 65 years and continues to grow, with a new four screen cinema opening in Newquay, Cornwall in the spring. The award went to WTW's four-screen state-of-the-art White River cinema in St Austell, beating off tough competition from Zeffirellis in Cumbria and The Lexi in London. Mark Williams, General Manager of White River cinema collected the award.

WTW Cinemas were an early adopter of 3D and have experience of three different 3D cinema systems over recent years. At the UK Cinema Exhibitors Association 3D conference in 2010 WTW cinemas compared their experiences using the different systems, and it was interesting then to hear about the practical problems of dealing with 'active' glasses and of the relative costs of operating the different 3D systems.

During 2010, Screen 1 at St Austell, which had used XPAND 3D for more than a year, changed to MasterImage 3D, and WTW have decided that their new all digital cinema in Newquay will use MasterImage 3D exclusively. They have found that the MasterImage technology is simple for the technical team at the cinema to operate, and the projection box preparation required was minimal - UK cinema installation and service company Sound Associates installed and support the MasterImage 3D systems at the WTW cinemas.

Since the change, feedback from audiences has been very positive, with people preferring the lightweight glasses. Brian Kercher of MasterImage 3D said that they are coming across more and more situations where cinemas are replacing previously installed systems with MasterImage 3D, once cinemas realise the true cost of ownership over time of the various alternative solutions.
Feb 2011

- Philips release a long life lamp for NEC projectors

After extensive research and testing, NEC have given approval for Philips to market the 4001N – specifically designed as a longer lasting lamp for the NC range of digital projectors. The new version of lamp has an industry beating 1500 hours warrantied life.
Jan 2011

- Barco launch Post Production projector

Barco have announced the introduction of a new projector, specifically designed to assist the critical post production facilities. A specification sheet and other details will be available shortly – please contact Sound Associates to register your interest.
November 2010

- A new 4 Screen Cinema opens in Reykjavik, Iceland.

SAMFILM, along established customer of Sound Associates, and the largest exhibitor in Iceland has opened an exciting all digital new 4 screen complex in Egilsholl.

Sound Associates were used to supply, install and commission all of the digital cinema and sound equipment as well as a Theatre Management system.
November 2010

- QSC introduced to Iceland.

The new 4 screen cinema, developed by SAMFILM in Egilsholl, Iceland - features an end-to-end sound solution from QSC. The system utilises QSC speakers, amplifiers and cinema processors and was specified, installed and commissioned by Sound Associates.
November 2010

- Unique Theatre Management System.

The new 4 screen cinema, developed by SAMFILM in Egilsholl, Iceland - features a Theatre Management System from Unique, which simplifies the operating of the site and helps to minimise the operational costs of the venue. The system utilises QSC speakers, amplifiers and cinema processors and was specified, installed and commissioned by Sound Associates.
November 2010

- South West Screens – Portable Touring equipment.

In an unusual project, Sound Associates have provided a portable Digital Cinema System to South West Screens, who will tour it across a number of their venues.

Three of the venues have also have bespoke cinema sound systems installed, and the other venues will continue to use the portable sound equipment.

The kit has been designed to fit into a standard transit van – and to be up and running within 30 minutes of arrival at the venue. It is fully DCI compliant and it will help bring digital cinema to rural communities.
September 2010

- Apollo Cinemas Completes its Digital Cinema rollout.

Apollo Cinemas have completed their planned rollout of Sony 4K digital projectors across all the designated sites, within time and budget. All screens are equipped with the Sony R320 4K projectors, and most screens are also equipped with Real D 3D.

Each site also has the ability to show a range of other content (satellite/DVD/laptop etc) through a specially developed portable rack system.

The project to convert all screens took less than a year, and involved removing all of the 35mm equipment, upgrading the sound systems, installing and commissioning the Sony 4K projectors.

Sound Associates are providing the on-going planned maintenance service and the on-site support.
September 2010

- New Personnel.

Sound Associates has further strengthened its team in support of cinema exhibitors. Reacting to the growing business and recognising the future opportunities new positions have been created in sales administration, technical stores, drawing support and the workshop. It is also anticipated that the engineering team will be eXPANDed in the next few months.
August 2010

- Soho House Berlin.

The prestigious members only Soho House group have increased their estate with the opening of the new Soho House Berlin club and hotel.

The hotel includes a state-of-the-art single screen cinema, featuring a fully DCI compliant digital cinema facility.

Supplied and installed by Sound Associates, this is the first venue of itsknd in Germany.
June 2010

- Sound Associates Supports Apollo Cinema Awards Ceremony.

Apollo Cinemas have introduced an annual awards ceremony to celebrate individual and team successes throughout their company.

Held this year at Apollo Leamington Spa, Sound Associates have sponsored the Projection Team of the Year.
June 2010

- Southampton University Cinema goes digital.

Southampton University has upgraded its student teaching facilities with the installation of a DCI compliant digital projector and cinema server.

After a competitive tender process, Sound Associates were delighted to be awarded the supply and installation contract.
May 2010

- Technicolour 3D.

Sound Associates has installed the newly launched Technicolour 3D system for 35mm projectors at an independent cinema on the south coast.
Feb 2010

- Vue Westfield.

In February, Europe's largest digital only cinema opens at the Westfield shopping centre in London's Sheppard's Bush. Fully equipped with Barco digital projectors and Dolby digital cinema servers, all of the sound and projection works were carried out by Sound Associates.

As the shopping centre – which opened in 2009 – was fully operation, a specific works project plan was initiated to ensure minimum disruption to the rest of the shopping centre.

5 of the 14 screens are 3D enabled, and many of the screens are also able to show other non-cinema content. It is expected that a number of film premiers will be held at Vue Westfield.